When the weather conditions are unfavorable, the best option when it comes to driving is to not drive at all. Read this blog post for six tips on how to protect your vehicle from winter potholes.
---
When it comes to driving in unfavorable weather conditions, the best option is to not drive at all. However, many drivers don't have much say in the matter either because of work, an emergency or just a desire to get home before conditions get much worse.
Around the U.S., ice, freezing rain and fluctuating winter temperatures can leave roadways littered with potholes, causing vehicle damage and costly repairs for motorists, says AAA. In some cases, the company added, the impact of poor road conditions can leave a vehicle owner with repair bills ranging from under $250 to more than $1,000 depending on the extent of the damage, the make of the vehicle and the make of the tires.
Potholes tend to form when moisture collects in small holes and cracks in the road surface. As temperatures rise and fall — as they have this winter — the moisture expands and contracts, ultimately resulting in broken up pavement which is then continually impacted by the weight of passing cars.
Cracks in the road
According to a AAA study on pothole damage:
Americans spend $3 billion per year on average to repair pothole-related damages to their vehicles.
American drivers paid an average of $300 each to repair pothole-related damages to their vehicles in 2017, according to AAA estimates.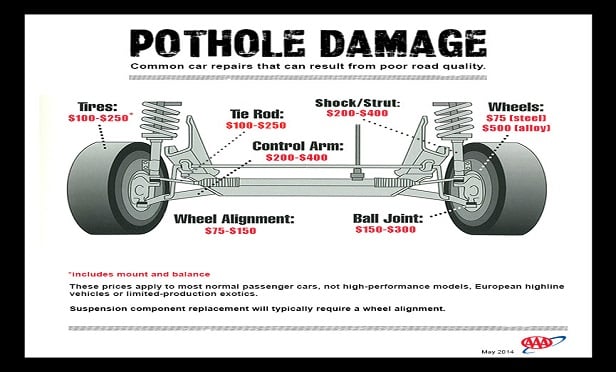 Blown tires, dented rims, damaged wheels, dislodged wheel weights, displaced struts, dislocated shock absorbers and damaged exhaust systems are all costly common automotive issues. Other signs include misaligned steering systems and ruptured ball joints.
"Driving over potholes formed by weather extremes and heavy traffic can damage a tire's internal steel belts and force it 'to go out of round.' This negatively impacts your ability to drive comfortably and safely," Jed Bowles, AAA Blue Grass fleet manager, said in a press release. "Running into a pothole can lead to irregular tire wear and tear, vehicle vibration and imbalance, wobbling and loss of control."
With this in mind, here are six tips that will help aid motorists in protecting their vehicles from pothole damage, courtesy of AAA.
AAA suggests making sure tires have enough tread and are properly inflated. To check the tread depth, insert a quarter into the tread groove with Washington's head upside down. The tread should cover part of Washington's head. If it doesn't, it's time to start shopping for new tires. When checking tire pressures, refer to the owner's manual to ensure they are inflated to the manufacturer's recommended levels.
Keep an eye out for potholes when driving. Stay focused on the road ahead and don't get distracted. If you need to swerve to avoid a pothole, make sure to check surrounding traffic to avoid causing a collision or endangering nearby pedestrians or cyclists.
If a pothole cannot be avoided, reduce speed, and check the rearview mirror before any abrupt braking, says AAA. Hitting a pothole at higher speeds increases the likelihood of damage to tires, wheels and suspension components.
A puddle of water can disguise a deep pothole. Use care when driving through puddles and treat them as though they may be hiding potholes.
Hitting a pothole can knock a vehicle's wheels out of alignment and affect the steering, says AAA. If a vehicle pulls to the left or right, have the wheel alignment checked by a qualified technician.
Any new or unusual noises or vibrations that appear after hitting a pothole should be inspected immediately by a certified technician. A hard pothole impact can dislodge wheel weights, damage a tire or wheel, and bend or even break suspension components, says AAA.
SOURCE: Jacob, D. (12 February 2019) "6 tips to protect your vehicle from winter's potholes" (Web Blog Post). Retrieved from https://www.propertycasualty360.com/2019/02/12/6-tips-to-protect-your-vehicle-from-winters-potholes/